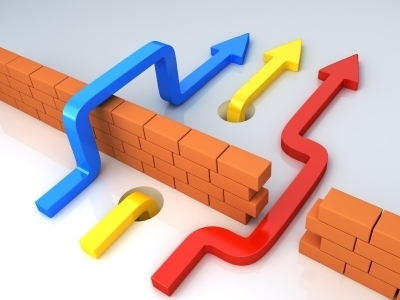 You might not have much competition now…but what will you do when new companies enter your industry and try to take some of your share of the market? If you've planned for this, then you've already assessed the threat of new entrants in your industry. This is the fifth and last post in the series Analyzing Your Industry: Porter's 5 Forces.
It's important to consider how easy it is for new companies to enter your industry. Chances are, if it was easy for you, it will also be easy for your future competitors. Even if you're in an industry where it's easy to set up shop, you still need to evaluate what the barriers to entry are, so you can predict how new companies will position themselves in your industry. Some factors to consider are:
Is your industry capital-intensive? Can a new company launch with $50,000, or do they need $5 million?
Is your product proprietary? Are you protected by a patent or trademark? If not, competitors might be able to repurpose your product, rebrand it and launch it under a new name.
Do you need economies of scale in order to be profitable? Can new entrants afford to scale up to a profitable level?
Does your product or service require a huge number of users in order to make money? If a business needs the network effect to succeed, it will be much harder to gain market share.
What Threat of Entry Means for Your Business
If barriers to entry are low, you could face a lot of competition in the future. That doesn't mean you shouldn't start that business, but it does mean you need a strategy to handle new competitors and hold on to your market share. If barriers to entry are high, consider whether your strategy to overcome those obstacles can realistically work. You don't want to end up with too many sunk costs.
What is the threat of entry for your industry?